Salt Fin Charters
Fripp Island, SC
Come Aboard The Newest and most exciting charter Fishing Experience on Fripp Island!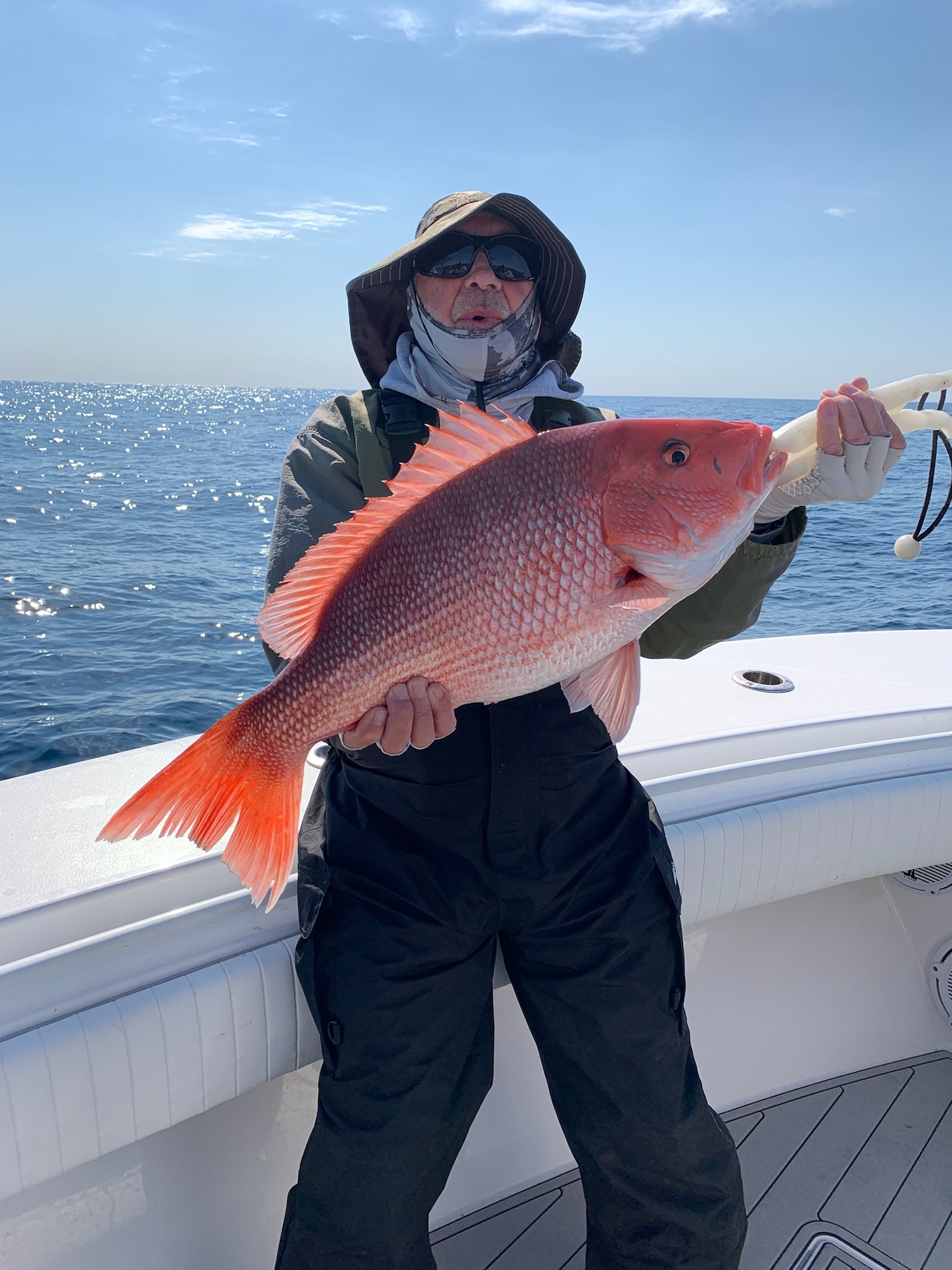 Get an opportunity to catch a fish you can hug with Salt Fin Charters
A visit to South Carolina and Fripp Island wouldn't be complete without getting out onto the water. The waters surrounding Fripp Island are a fishermen's paradise! At Salt Fin Charters, our Captain and crew have a passion for fishing throughout Lowcountry South Carolina, and we can't wait to take you on an incredible fishing trip on the beautiful Coastal Carolina Waters.
Salt Fin Charter Fishing Goals And Mission:
Our mission is to share this magnificent world with people who don't have the luxury of living near our fantastic ecosystem. So while we always want to catch fish, the main attraction will always be the ocean's abundance of life and beauty.
To make everyone who comes aboard to fish feel welcome and at home.
To be a guide for those looking to learn the art of fishing. We want every charter guest to catch as many fish as possible!
To make each fishing trip memorable. We help guests fish the shorelines around Fripp Island and the surrounding Lowcountry - among the best of all fishing holes in South Carolina.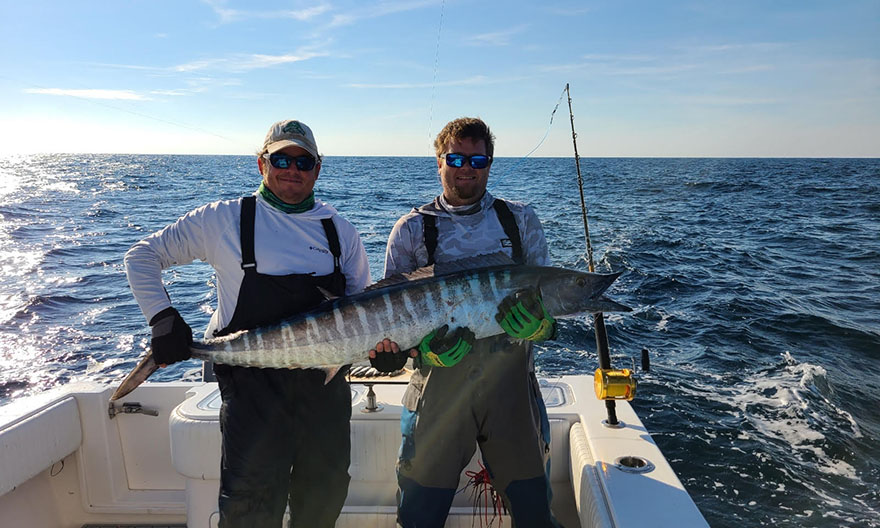 Our Charter Fishing Boat
Charter fishing captain Andrew skippers our 2016 35ST Contender. This formidable boat is a beast in the water. The vessel has three onboard Yamaha 300 four-stroke motors known for speed, handling, and reliability.
Outfitted with the latest technology, it features an infrared camera and a night vision camera to aid in low-light or foggy conditions. In addition, Onboard Garmin GPS, radar, and Autopilot make this vessel easy to navigate.
Docked at Fripp Island Marina, a charter with Salt Fin is perfect for day trip fishing excursions for visitors and residents of Hilton Head Island, Port Royal, Beaufort, Hunting Island, St. Helena Island, Harbor Island, Edisto Beach, Edisto Island, and the sea islands.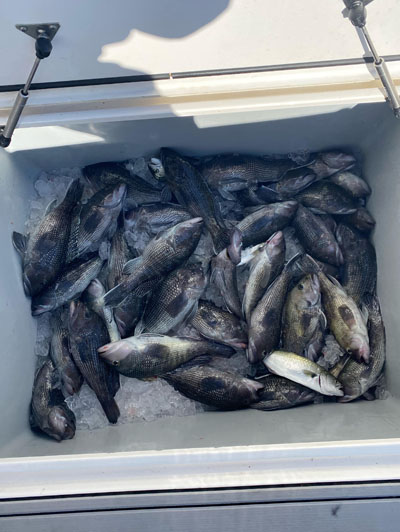 Nearshore Reef Fishing
Cast your reels to fish in shallow waters for the freshest inshore species, including Giant Cobia, King Mackerel, Spanish Mackerel, Spade Fish, Sheepshead, Drum, and Sea Bass. Our nearshore fishing trips are ideal for those with limited time or who want to add more diversity to an ordinary golf weekend.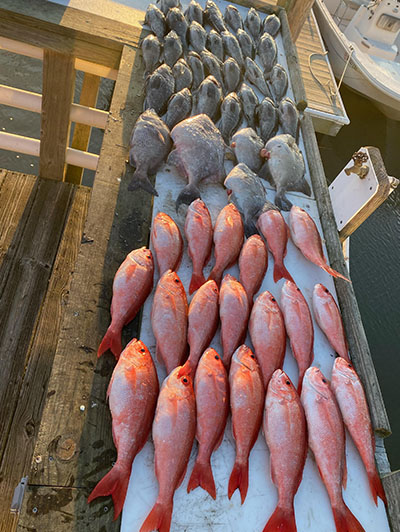 Offshore Fishing
Fish in old deep water coral reefs from millions of years ago! Offshore fishing yields larger species of bottom fish such as Snapper, Grouper, and Amberjack and pelagic fish that thrive higher in the water column. Our offshore fishing trips are excellent for every fishing enthusiast!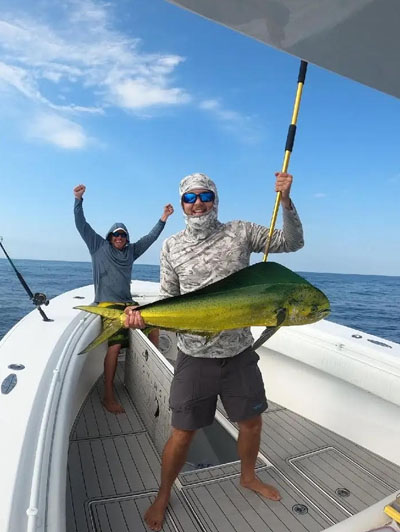 Deep-Sea Fishing
Salt Fin Charters gets you in the Gulf Stream! Our Premier deep sea saltwater fishing trip goes out up to 90 miles into the Gulf Stream to angle Mahi Mahi, Wahoo, and Tuna. We use multiple fishing techniques, from trolling to kite fishing, to get the catch of a lifetime. Our deep sea fishing trips are great for experienced anglers to test their skills.
Why Choose Salt Fin Charters For Your Fripp Island Fishing Adventures?
As lifelong South Carolinians, our Captain and crew have deep experience and knowledge of the waters surrounding Fripp Island. In addition, our fishing boat captain knows where to find trophy-class fish year-round.
Our charter vessel is equipped with the latest technology to ensure you get back to shore safely: Radar, GPS, Autopilot, and Infrared Camera. In addition, clean restrooms on board mean you'll have a comfortable fishing experience!
Our professional staff is personable and friendly - ready to put the best fishing trip together for you. We want guests to have an unforgettable day on the water - whether 10 or 90 years old!
We know that your time on Fripp Island is precious, and we want to help you make the most of it! So call or book online to schedule an unforgettable day trip fishing with Salt Fin Charters today.
Chase Your Trophy Catch with Salt Fin Charters
Salt Fin Charters is the premier Lowcountry fishing charter boat. Our fishing captain has deep experience and knowledge of South Carolina's waters and always does his best to put you on the fish.
The Lowcountry's distinctive saltwater ecosystem is one-of-a-kind, offering a variety of exciting coastal and offshore fishing opportunities all year round:
Spring Season - March through May: Trout, Redfish, Flounder, Spanish Mackerel, Cobia, Black Drum, Jacks, and Sheepshead nearshore. Mahi Mahi, Blackfin Tuna, Wahoo, and Grouper offshore.
Summer Season - June through August: Tarpon, Redfish, Flounder, Trout, Jacks, Spanish Mackerel, Spadefish, and sharks nearshore. King Mackerel, Cobia, Sailfish, Snapper, Grouper, Sea Bass, And Triggerfish offshore.
Autumn Season - September through November: Sharks, Ladyfish, Redfish, Black Drum, Sheepshead, Trout, Whiting, and Flounder nearshore. King Mackerel, Grouper, Amberjack, and a mixed bottom species offshore.
Winter Season - December through February: Black Drum, Whiting, Sheepshead, Redfish, and Trout nearshore. Wahoo and Tuna offshore.
Whether you're an experienced angler or want to get out with friends and family, Salt Fin is the perfect Atlantic charter to experience the thrill of hooking the big one!
Located within 55 miles of Beaufort, Beaufort County, Hilton Head Island, Charleston, North Charleston, Hanahan, Ladson, Summerville, Mount Pleasant, and Goose Creek South Carolina, as well as Wilmington Island, Savannah, Garden City, Rincon, Richmond Hill, and Pooler, Georgia, Salt Fin Charters is among the best Lowcountry and Coastal Empire fishing charters.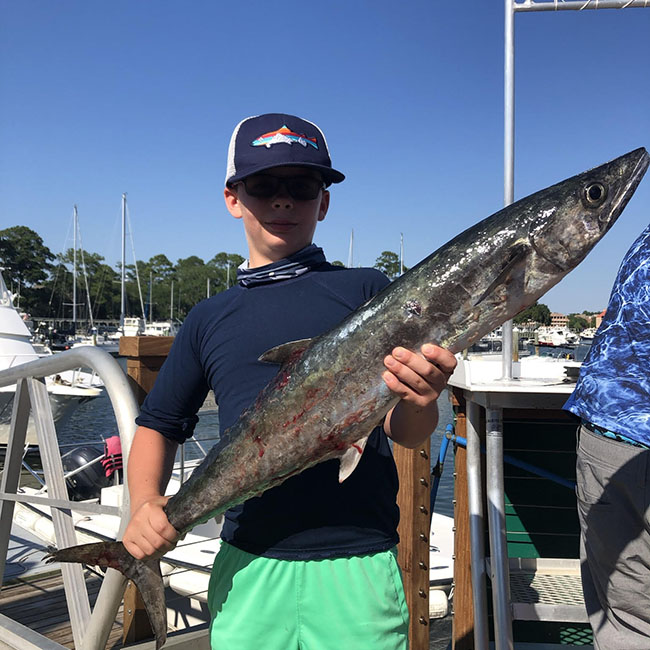 We Clean And Pack Your Catches
All legal "keepers" get cleaned and packed at the journey's end. We provide bait, ice, and everything else you'll need for a successful fishing trip. Bottled water is always available on board, and guests are welcome to bring their food and drinks for the trip - ideally, in a cooler - as we need it to pack your cleaned catches at the end of the charter!
Get Ready To Go Fishing!
We are excited to start planning your best fishing experience. Don't miss out on reserving your spot! Availability for the upcoming season is filling quickly.
So make sure you give us a call today or book online to secure your preferred day fishing charters for your offshore fishing trip, inshore fishing excursion, or deep sea charter fishing trip in the Lowcountry! We're excited to offer exceptional fishing opportunities this year!